Our Practice
Our Practice Kitchener Street Dental Toowoomba
We can help you to achieve the maximum level of health and beauty from your smile here at Kitchener Street Dental
Our practice boasts a range of modern facilities, which allows us to conduct every treatment with complete confidence in the technology and techniques we use.
We understand the importance of your comfort when visiting our practice and endeavour to reassure you in all aspects of your treatment, from consultations to routine check-ups through to more intensive treatments requiring sedation. In all aspects of your treatment, you are able to rest assured that you will be taken care of and your needs catered for.
Our Philosophy of Care here in Toowoomba
Our philosophy is one which embraces the core principles of holistic care and treatment. Using this as our foundation, we can build the blocks of your comprehensive treatment.
We provide a comprehensive examination of your oral condition, ensuring that infection and damage control is paramount before any further treatment takes place. In doing so, we can be confident in assuring our patients of the best possible results from their procedures and the highest degree of success in the long term.
State-Of-The-Art Equipment
We can provide the best in all-round, inclusive assessment of your oral condition, from the very first point of consultation. Using our range of state-of-the-art equipment, including our Intraoral Camera and Digital In-house Panoramic Radiograph, we can complete an in-depth analysis of the deepest recesses of your mouth and underlying bone structure.
We can also provide the benefits of our very own state-of-the-art 3D CEREC machine. This machine can accurately create beautiful porcelain restorations, for a multitude of dental issues including crowns and dental implants.
At Kitchener Street Dental we use the following modern technologies;
CEREC
DIAGNOdent Laser Caries Detection Aid
Digital In-House Panoramic Radiograph
Intra-Oral Camera
The Wand
Our Facilities
Our practice environment is one which will leave you feeling calm and relaxed throughout your time here. Our team of dental professionals and supporting staff will always do their best to make sure your experience is a pleasant one.
We aim to ensure that from the moment you walk through the door, to the point at which you leave our modern and comfortable practice, we are able to offer you the maximum comfort and relaxation at our surgery. We provide a range of beverages for your enjoyment whilst you wait. At Kitchener Street Dental, we subscribe to the latest editions of a wide selection of magazines for you to read whilst you wait for your scheduled appointment.
Enjoy our in-chair entertainment facility, with televisions situated in each room. These can assist us in keeping you relaxed and also informed, as they can be utilised to project visual imagery of your oral camera results and digital x-ray images.
Sleep Dentistry with Penthrox sedation
At Kitchener Street Dental, we understand the apprehension with which some patients visit the dentist and we know that it is important to feel comfortable and calm when undergoing dental treatment, for your overall health and longevity in your oral care. For those patients that experience anxiety when considering dental treatment, we offer the use of Penthrox sedation. This can allow you to fully benefit from the attention that you need for oral health and vitality.
Quality Innovative Performance (QIP) Accredited
Kitchener Street Dental is proud to to have achieved the QIP Dental Accreditation. This recognition demonstrates our commitment to providing the highest standards of quality and patient care. As a QIP accredited dental practice, we have undergone rigorous assessments and evaluations to ensure compliance with industry best practices and infection control protocols. Our dedicated team continuously strives to deliver exceptional dental services in a safe and comfortable environment. With our QIP accreditation, patients can trust in our unwavering dedication to their oral health and well-being.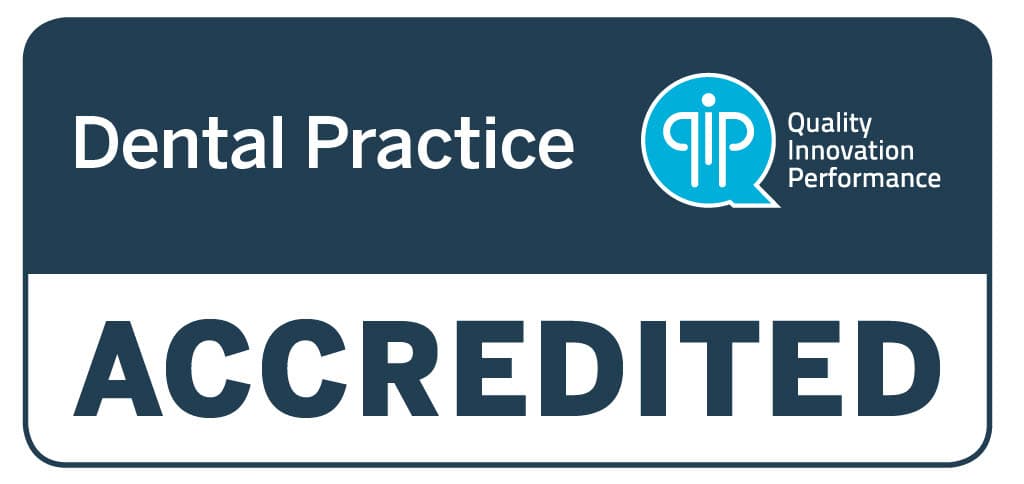 Toowoomba Dentist
For any further information about the range of treatment options available to you at Kitchener Street Dental, please do not hesitate to contact us on 07 3184 8462. A member of our team will endeavour to assist you.
We provide disabled facilities for your convenience and can cater for all patients' needs, both young and old.